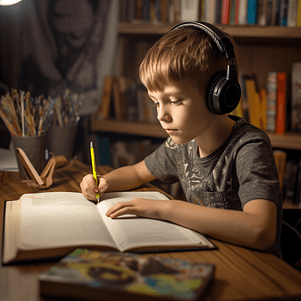 This is an excerpt from our new book. Empowered Homeschoolers: A Guide to educating children with special needs. If you like what you see you can check out our book on amazon. Get the book here!
Auditory learners
Auditory learners have an innate predisposition to absorb knowledge through auditory channels find their educational sanctuary in the world of sounds. Their minds are finely tuned receivers, catching the whistles of wisdom that blow in the wind. For these unique learners, the art of acquiring knowledge doesn't rest on the static pages of textbooks or flashcards. Instead, it reverberates in the symphony of spoken words, lectures, podcasts, and discussions, creating an echo chamber of education.
The realm of homeschooling offers a perfect stage for these learners to tune into their innate preferences. It provides the flexibility to dance to the rhythm of auditory learning, leaving the sonic threads of education into the tapestry of their curriculum.
A lecture isn't a monotonous droning but a song of knowledge, a podcast isn't mere background noise but an interactive dialogue, and a discussion isn't aimless chatter but a symphony of shared learning.
The virtue of repetition rings true for these learners. Each replay is not merely an echo, but a layering of knowledge, a reinforcement of the auditory foundations of their understanding.
A study published in the International Journal of Science Education throws light on this phenomenon. It elucidates how auditory learners thrive on the repetitive resonance of information, benefitting exponentially with every repetition. In addition, mnemonic devices, the clever play of auditory cues and memory, are invaluable tools in the auditory learner's arsenal, helping them recall information easily.
Let's delve into the world of Sam, a thirteen-year-old auditory learner. First, Sam found himself in a quandary in the labyrinth of scientific terms and concepts. Each term was a convoluted riddle, each concept a mysterious enigma. Finally, his homeschooling mother, an intuitive educator, recognized Sam's unique learning style and decided to pivot her teaching strategies. She began crafting podcasts, transforming her lectures into auditory masterpieces the team could replay and remember.
In this auditory realm, Sam didn't just listen; he absorbed, learned, and understood. The scientific terms that once seemed like cryptic codes you now familiar friends, ad complex concepts that once were puzzles are now comprehensible stories. Though less treaded in conventional education, the path of auditory learning led Sam to the zenith of his academic potential.
In a world that is often visually dominant, auditory learners remind us of your listening, the beauty of hearing, and the potential of homeschooling to cater to every unique learning style.
They beckon us to hear the whispers of wisdom, to listen to the melodies of knowledge, and to tune into the music of learning.
Related Posts
Table of ContentsIntroduction: The Importance of Technology in Special EducationTrend...