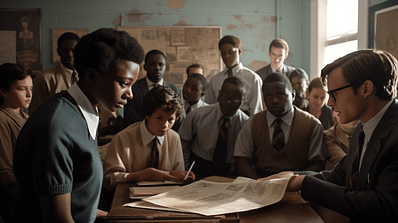 Hello to all dedicated teachers and diligent homeschoolers! We're excited to delve into the powerful world of close reading strategies today. This method of teaching, when used effectively, can truly enhance your students' comprehension, analytical skills, and love for literature. With our 5th-grade short story resource tailored to this purpose, we're confident you'll see the transformative power of close reading in your classroom.
The Power of Close Reading Techniques
Close reading is a cornerstone of literacy education. It equips students with crucial skills to unravel complex texts, delve into the layers of meaning, and engage in thoughtful, text-based discussions. This strategy involves a detailed, careful analysis of a short passage or text, with multiple re-readings and focused attention on different elements each time.
When we talk about effective close reading strategies, it's about more than just reading a text a couple of times. It's about diving deep, peeling back the layers, and sparking curiosity and critical thinking in your students. Our 5th-grade short story resource is designed to facilitate this process with engaging stories and thought-provoking questions that guide the close reading journey.
Benefits of Close Reading
Teaching close reading strategies has numerous benefits. It encourages students to pay attention to the details, improves their ability to make inferences, helps them understand complex texts, and deepens their appreciation for literature.
Research has shown that techniques for close reading like repeated readings, annotation, text-dependent questions, discussion, vocabulary instruction, teacher modeling, and the use of graphic organizers significantly improve students' comprehension (Reutzel, Jones, Fawson, & Smith, 2008; Fowler & Barker, 1974; McKeown, Beck, & Blake, 2009; Murphy, Wilkinson, Soter, Hennessey, & Alexander, 2009; Stahl & Fairbanks, 1986; Davey, 1983; Kim, Vaughn, Wanzek, & Wei, 2004).
The Impact of Repeated Readings in Close Reading
A cornerstone of effective close reading methods is the practice of repeated readings.
According to research by Reutzel, Jones, Fawson, & Smith (2008), multiple readings of the same text can significantly enhance comprehension. In our 5th-grade short story resource, we've embraced this strategy wholeheartedly. The story is crafted with layers of complexity and richness, designed to be unraveled through multiple readings.
The first reading is aimed at understanding the general idea or gist of the story. The second reading encourages students to delve deeper into the details, the characters, the plot, and the setting.
Subsequent readings then guide students to make inferences, interpret the text, and analyze the author's purpose.
This strategy of repeated readings cultivates a comprehensive understanding of the text and fosters a deeper appreciation for literature among students. It's a journey of discovery, where with each reading, students uncover new insights, perspectives, and meanings within the story.
Enhancing Comprehension through Annotation
Annotation is a powerful tool in the close reading arsenal. Fowler & Barker (1974) found that this active reading strategy greatly improves comprehension and retention of information.
In our resource, students are encouraged to underline or highlight key phrases, write summaries or questions in the margins, or even draw diagrams to help visualize information. This helps to make the reading process interactive, engaging, and personalized.
The Power of Text-Dependent Questions
Text-dependent questions play a crucial role in deepening understanding. Research by McKeown, Beck, & Blake (2009) shows that these questions, which require students to dive back into the text to find answers, can improve comprehension.
Our 5th-grade short story resource includes a range of such questions, from those requiring literal understanding to ones demanding deeper inference or analysis.
Encouraging Discussion
Engaging in discussion about a text has been shown to enhance comprehension (Murphy, Wilkinson, Soter, Hennessey, & Alexander, 2009). In our resource, we promote this by encouraging pair or group discussions, or a full-class discussion after reading. This fosters a collaborative learning environment where students learn from each other's insights and interpretations.
Vocabulary Instruction: Context is Key
Teaching vocabulary in the context of reading can significantly improve comprehension (Stahl & Fairbanks, 1986). Our 5th-grade short story resource integrates vocabulary instruction, either by pre-teaching key vocabulary before reading or teaching students to use context clues to figure out the meaning of unknown words.
Teacher Modeling: A Guided Approach to Close Reading
Teacher modeling of close reading, including thinking aloud about their thought process, can help students understand how to approach the text (Davey, 1983). Our resource encourages teachers to model how to ask questions, make inferences, or analyze the author's purpose. This guided approach demystifies the close reading process, providing students with a clear blueprint to follow in their own reading journey.
Our 5th-Grade Short Story Resource: A Tool for Close Reading
Our 5th-grade short story resource is an answer to the needs of teachers and homeschoolers who seek a structured and efficient way to implement close reading in their teaching practice. It offers engaging stories that are age-appropriate and rich in content, paired with text-dependent questions that guide students through the close reading process.
The stories in our resource are tailored to cultivate close reading skills. They are designed to be read multiple times, each time with a different focus – understanding the gist, analyzing details, making inferences, and interpreting the text.
The text-dependent questions in our resource require students to dive back into the text for answers, promoting a more profound understanding. They range from literal comprehension to inference and analysis, challenging students to engage with the text at different levels.
Take the Next Step: Enhance Your Teaching Practice
Harness the power of close reading strategies for students in your classroom with our 5th-grade short story resource. Your students will benefit from improved comprehension, analytical skills, and a deeper appreciation for literature. We invite you to take the next step towards a more engaging and effective teaching practice with our resource.
Remember, mastering the art of close reading is not just about reading—it's about understanding, interpreting, and appreciating literature. Let's equip our students with these critical skills for their lifelong learning journey.
Related Posts