How do we teach 5th-grade short stories? As parents and teachers, when it comes to teaching fifth graders how to read short stories and build basic knowledge of the main ideas along with their comprehension, modern techniques can help make this process easier. Whether prepping a student for an upcoming quiz or trying to establish a reading habit in your young learner, learning strategies that address outcome goals and skills like inference can be immensely beneficial. After all, being able to "push past" the surface-level details when reading and understanding others are critical life skills!
This blog post will outline key steps for teachers (and parents!) to effectively guide students through enriching activities that strengthen these important literacy components. So grab some books, grab some coffee … let's get started!
The Power of Short Stories in the Classroom – Discussing the impact of using short stories to help teach 5th graders reading comprehension, inference, and main idea.
Do you want to know the secret to teaching 5th-grade short stories in reading comprehension? Short stories! Not only are they a quick read, but short stories also pack a punch when teaching inference and identifying the main idea. As a teacher, you can easily use these stories to create lively class discussions and spark critical thinking.
Plus, short stories often feature unique plot twists and memorable characters, making them entertaining and memorable. Who knows, your 5th graders may even discover a love for reading that stays with them for years to come, all because of the power of short stories in the classroom.
Get Creative with Short Story Questions – Offer tips and tricks for creating fun and engaging questions that engage fifth graders.
Attention all fifth-grade teachers and parents! Are you tired of the same old boring questions regarding short stories? Well, don't fret because we have a few tricks up our sleeves to get those creative juices flowing.
Why not start with a "what if" question? What if the main character was actually a time traveler? Or how about a "why" question? Why did the antagonist's pet turn on them in the end? And who can resist a "would you rather" question? Would you rather be stranded on a deserted island with the hero or the villain? With these fun and engaging questions, your fifth graders will be itching to share their thoughts and ideas about the short stories they read.
Making Sense of Inference Questions – Explain how inference questions can be used as a tool to help students comprehend what they read and make inferences about the text.
Reading comprehension can be a bit like a game of Clue. You gather all the clues, piece them together, and make an inference about what happened.
But instead of Colonel Mustard in the library with a wrench, we're talking about grasping what you've just read.
Inference questions are the magnifying glass to help you see these clues more clearly. By asking questions that make you think about what you've read, you can decipher the meaning of the text and draw your conclusions. And let's be real, who doesn't love feeling like Sherlock Holmes occasionally?
Leveraging Technology to Your Advantage – Explore how technology can be used with reading comprehension activities to engage students and reinforce understanding of the material being taught.
Attention teachers! Are you tired of students nodding off during reading comprehension activities? Are you ready to leverage technology to your advantage? It's time to bring the heat to the classroom with innovative technological tools that will engage and reinforce student understanding of the material being taught. Imagine using interactive e-books, audiobooks, and online reading comprehension games to get your students hooked on reading. The possibilities are endless! So, let's ditch the dusty old textbooks and embrace the digital age. Trust us; your students will thank you. Let's get them tech-savvy and learning!

Are you ready to take the leap? Before you do, ensure your classroom is fully equipped with the necessary technology. Here at Inclusive Minds, we provide free resources tailored to help teachers create an inclusive learning environment while utilizing digital tools. We want to ensure that every student can access the curriculum.
Building Confidence Through Reading Comprehension – Guide 5th graders through a positive learning experience by gradually introducing concepts like reading comprehension and inference and building on them over time.
Are your 5th graders feeling a bit lost when it comes to reading comprehension? Fear not! With a gradual introduction to key concepts, like inference, they'll be well on their way to building confidence in no time. It's all about taking it one step at a time, folks. You wouldn't jump right into a frying pan without first learning to crack an egg, would you? By building on these skills over time, your students can easily tackle even the most intimidating texts. So let's get cracking and create some confident little readers!
Celebrate Student Success with Positive Reinforcement – Show appreciation for your student's hard work by providing positive feedback on their performance throughout the learning process!
As the saying goes, "You catch more flies with honey than vinegar," and the same goes for students!
Celebrating student success with positive reinforcement is the way to go when engaging and motivating students. Who doesn't love a pat on the back or a round of applause for a well-done job?
Show your students their hard work is appreciated by providing positive feedback throughout the learning process. With some wit and creativity, you can make their journey to success a lot sweeter! So please give them the recognition they deserve and watch their confidence soar!
Fifth-grade classrooms are often filled with eager students but sometimes lack the confidence to take on complex topics. Fifth graders can better understand reading comprehension, inference, and the main idea by utilizing short stories and incorporating fun and engaging learning activities.
It's important to leverage technology to help reinforce their confidence by gradually introducing new concepts they can fully understand and succeed in.
Furthermore, endear yourself to your students by recognizing their successes while providing positive reinforcement that encourages them further toward literacy growth! With these modern techniques, you can help create an energizing classroom environment where students can develop key reading strategies – an essential step for any successful reader!
So here is an example of 5th-grade short stories with questions I created with different types of questions.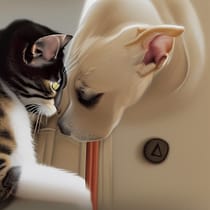 Once upon a time, a cat and a dog lived in the same house. The cat was named Pat, and the dog was named Tip. They were both very curious animals and wanted to explore the world around them.
One day, Pat and Tip decided to go on an adventure together. They set off into the woods, looking for new things to discover. Along the way, they encountered all sorts of creatures, from birds to squirrels to rabbits.
At first, Pat and Tip were cautious of each other as they explored their surroundings. But soon enough, they started to get along better and better. They began playing together and having fun.
Eventually, Pat and Tip found themselves at a stream with a bridge over it. As they crossed the bridge, they noticed something strange in the water below: a fish! Pat and Tip were so excited that they jumped in after it!
The fish swam away quickly, but Pat and Tip had so much fun chasing it that they didn't care. They spent hours playing in the water before finally heading home with big smiles on their faces.
From then on, Pat and Tip were best friends forever! Whenever they went out exploring together, they always had an amazing time no matter what happened!
Here are five comprehension questions for the story:
Who are the main characters in the story?
Where did Pat and Tip go on their adventure?
What creatures did Pat and Tip encounter while exploring?
What did Pat and Tip find in the water?
Were Pat and Tip friends before or after their adventure?
Here are five Inference questions
Why were Pat and Tip cautious of each other at first?
What did Pat and Tip learn about each other as they explored together?
How did Pat and Tip feel about chasing the fish in the water?
What do you think might have happened if Pat and Tip had not become friends during their adventure?
Why do you think Pat and Tip continued exploring together after their adventure, despite encountering initial challenges?
Here are five main idea questions for the story:
What is the main idea of the story?
How does the author convey the importance of friendship in the story?
What main message does the author want readers to take away from the story?
What is the overall plot of the story?
How do Pat and Tip's experiences and adventures impact their relationship with each other?
---
Our 5th Grade Short Stories with Questions
There's no better way to get your 5th graders engaged than through short stories. But finding a story that's motivating and tests your students' reading comprehension can be challenging.
Introduce your students to an entertaining and creative story about a bird and bear on an adventure they won't forget. With this tale comes the chance to put their comprehension skills to the test while exploring the main idea and inferencing.
Ensure your students have a memorable learning experience with 5th Grade Short Stories "The Bear and The Bird: A Tale of Friendship and Determination"? An immersive story designed especially for 5th-grade students.
This short story is ranked on Flesch-Kincaid Grade Level: 5.4; Kincaid is used to determine U.S. school grade level; this indicates that the average student in that grade level can read the text. Best used for ages 10-11, 5th and sixth graders.
I have used this in classrooms and alongside special education groups for goal-setting and understanding common themes. Its unique story structure, vocabulary, and length make it perfect for checking for understanding in comprehension, inferencing, and main idea. I also use it to teach new vocabulary words and work alongside ESL learners. I have set up three stations, one for main idea, one for inferencing, and one for comprehension.
We have included the following:
An original short story-322 words at a 5.4 Kincaid reading level
One set of five multiple-answer questions on comprehension
One set of five multiple-answer questions on inferencing
One set of five multiple-answer questions on the main idea
One set of all questions combined to make a 15-question multiple-answer check for understanding.
Answer document for each section
With this one story, you can check for comprehension, inferencing, and or main idea. Or use it to check all three. Determining where your students need extra support.
So don't miss out on this amazing opportunity to engage your students in a story that provides an adventure they won't forget! Enjoy the journey with The Bear and The Bird: A Tale of Friendship and Determination.
Related Posts
Are you a teacher, educator, or homeschooler seeking fresh content...