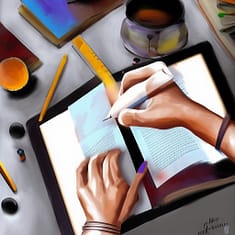 Teaching with reading passages can effectively improve students' comprehension, vocabulary, and critical thinking skills. Here are some tips to help you make the most of this teaching strategy:
Choose appropriate passages: Select passages relevant to your student's interests, age, and skill level. The text should be challenging but accessible for them to understand.
Pre-teach vocabulary: Identify and teach any unfamiliar or essential language before assigning the reading passage. This will help students better understand the text and make engaging with the content more accessible.
Set a purpose for reading: Clearly outline the learning objectives for the reading assignment. This could include identifying the main ideas, making inferences, or analyzing the author's intent.
Activate prior knowledge: Connect the passage to students' prior knowledge or experiences. This will help them better understand and engage with the material.
Model reading strategies: Demonstrate effective reading strategies, such as skimming, scanning, and summarizing. Please encourage students to practice these strategies while they read.
Encourage annotation: Teach students to annotate the text as they read, either by underlining, highlighting, or writing notes in the margins. This will help them actively engage with the passage and remember key points.
Use graphic organizers: Provide students with graphic organizers, such as Venn diagrams, T-charts, or timelines, to help them organize and visualize the information in the passage.
Facilitate group discussions: Encourage students to discuss the passage in small groups or as a class. This will help them develop critical thinking skills and deepen their understanding of the text.
Incorporate post-reading activities: After students have read the passage, engage them in activities that require them to apply what they've learned, such as writing a summary, creating a visual representation, or answering comprehension questions.
Assess understanding: Evaluate students' comprehension of the passage through informal assessments, such as class discussions, or more formal assessments, like quizzes or written assignments.
Provide feedback and support: Offer constructive feedback on students' performance and provide additional support as needed. Encourage students to ask questions and seek clarification if they need help with the material.
Reflect and adjust: Reflect on the effectiveness of your teaching strategies and make adjustments as needed. Continuously look for ways to improve your approach to teaching with reading passages to support your studestudent'sning needs best.
Related Posts
Are you a teacher, educator, or homeschooler seeking fresh content...