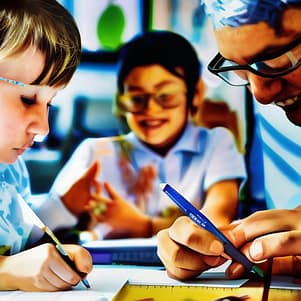 What is Eligibility for special education?
Having a child with special needs can be a difficult journey. As parents and teachers, we look for ways to ensure our students receive the education they need to succeed. One way of doing this is through Special Education Eligibility– but what exactly does this mean? This blog post will discuss the criteria used to determine eligibility for special education services, school responsibilities, timelines, and guidance provided by state and federal laws. We aim to provide you with useful information in an understandable yet entertaining manner—so let us get started!
Special Education Eligibility Overview
Let's talk special education eligibility, shall we? It involves a team of experts and evaluations to determine if a child qualifies for services. Think of it like a secret club – not just anyone can join, and you gotta meet certain criteria. Don't worry; the criteria aren't impossible to meet, and the benefits are worth it. From individualized support to accommodations and modifications, special education services are tailor-made to help students with disabilities succeed. So, if you're considering applying for special education services, take the leap. Who knows, you might just be joining the coolest club in school.
The Two Part Test
A two-part test must be performed to determine if your child is eligible for special education and related services.
Firstly, it must be confirmed that your child has a disability. Secondly, it must be demonstrated that, due to the disability, your child needs special education services to benefit from education.
For children between the ages of 3-21, except noted otherwise, the first part of the test can be met if the child fulfills one or more of the listed disability criteria.
The 13 disability criteria include:
Autism
Deaf or hard of hearing (ages birth through 21)
Deaf-blindness (ages birth through 21)
Emotional disturbance
Intellectual disability
Multiple disabilities
Noncategorical early childhood (ages three through five)
Orthopedic impairment
Other health impairment
Specific learning disability
Speech or language impairment
Traumatic brain injury
Visual impairment (ages birth through 21).
To get a breakdown of each disability, visit our post on Disabilities Explained.
What are the Timeframes for Ensuring Eligibility for Special Education Services
"Ah, the timeless question of timeframes for eligibility for special education services. It's enough to make any parent want to pull their hair out, wondering, "Will my child qualify? And if so, when will they start receiving services?" Well, my fellow concerned caregivers, fear not! The evaluation process typically takes about 60 days from the time you sign consent for testing. However, some states may have different timelines, so it's important to do your research. Just remember, Rome wasn't built in a day, nor is an Individualized Education Plan (IEP). But with a little patience and persistence, you'll have your child on the path to success in no time!"
Is it Thirty or 60 Days
The ARD committee determines eligibility within 30 calendar days of completion of the initial evaluation report.
Suppose the 30th day falls during summer break when school is not in session. In that case, the ARD committee has until the commencement of classes in the fall to make determinations on initial eligibility, IEP, and placement, except in cases where the initial evaluation specifies that the child will need extended school year (ESY) services during the summer.
However, if the school received parental consent for an initial evaluation 35 but less than 45 school days before the end of the school year, and the child was not absent for more than three days between the time consent was provided. On the last instructional day, the ARD committee must meet before the 15th school day of the following year to consider the evaluation report unless the evaluation specifies the need for ESY services during the summer.
If ESY services are required, the ARD committee must convene as soon as possible to evaluate the child's needs.
Ok, now that was a lot! Just know that the school has thirty days to complete the evaluation once it is requested.
The School's Responsibility – Stay on Top of Compliance
Ah, compliance – the necessary evil of any educational institution. But let's face it; we're not exactly known for our thrilling compliance reviews. That's where the school's responsibility comes in – we've got to stay on top of it. Sure, it may not be the most exciting task, but it's essential for the well-being of our students and staff. Plus, who doesn't love a good audit? Okay, maybe that last part was a stretch, but you get the idea. Let's tackle compliance with a little bit of humor and a whole lot of determination. Our school is responsible for ensuring everything is in order, and we're up to the challenge.
Achieving Balance Between Compliance and Quality Care
Compliance and quality care may seem like a classic case of oil and water – they don't mix. But in the healthcare industry, it's crucial to find a way to achieve a balance between the two. After all, without compliance, chaos would ensue, but without quality care, patients would suffer. It's like walking a tightrope without a safety net – one wrong move could all come crashing down. But fear not; just like a skilled tightrope walker, healthcare professionals can find balance with a little practice and finesse. So, let's take a deep breath, center ourselves, and take that first step toward achieving the perfect balance between compliance and quality care.
Schools Responsibility
In special education, the school is responsible for ensuring that the evaluation process is completed appropriately and following the recommendations made in the evaluation report. After an initial evaluation, the ARD committee must convene to discuss the results and decide the student's eligibility for special education and related services. You are a part of this team!
If the student is deemed eligible, the IEP team must develop an Individualized Education Program (IEP) that outlines the goals and objectives of the student's education and any accommodations or modifications necessary to support the student's learning. The IEP team must also determine the appropriate educational setting for the child, whether in a general education classroom with additional support or a specialized classroom or program.
The school is responsible for providing or arranging for the required special education and related services outlined in the child's IEP and regularly monitoring and revising the IEP as necessary. The school must ensure that the child receives an appropriate education that will enable them to reach their full potential.
If a school fails to meet these obligations or fulfill the law requirements, parents or guardians may have recourse to file a complaint or seek outside support to ensure their child receives the necessary educational services.
Does Everyone Qualify?
Not all learners who experience difficulties in their education are deemed eligible for special education and related services. Suppose your child's struggles are primarily caused by a failure to receive effective instruction in math or reading or a limited proficiency in the English language.
In that case, they may not be considered as a child with a disability under the Individuals with Disabilities Education Act (IDEA). Suppose the evaluation report reflects that your child does not have a disability. In that case, the campus-based support team may meet and suggest other services or programs in general education to help your child.
However, if the evaluation confirms that your child has a disability, the ARD committee must address the second part of the two-part eligibility test. The committee must determine whether special education and related services are necessary for the child to participate and progress in the general education curriculum (i.e., the same curriculum offered to non-disabled children). The ARD committee must ascertain if your child requires additional support to meet their academic goals and how special education and related services can be provided to accommodate their needs.
Letting Parents Know Their Rights in Special Education Eligibility Determinations
Hey there, parents! You know that feeling when you're trying to figure out what's going on with your child's education, and it feels like you need a degree in legal jargon to understand the basics? Well, fear not! When it comes to special education eligibility determinations, you've got rights, and we're here to ensure you know every last of them. So, put on your thinking caps, grab a coffee, and get ready to become a special education eligibility determination expert. Don't worry; we won't test you on it later. 😉

At Inclusive Minds, we aim to spread awareness of parents' rights regarding special education eligibility determinations. We believe it's important for families to be informed and involved in their children's educational processes. They can make the best decisions for their kids with the right information.
We have an entire series describing parents' rights in special education.
Balance is the Key
It's crucial to balance meeting compliance standards and providing quality care for special education students. Every individual's needs will vary, so it's necessary to consider what will work best for the student, their parents, and the school.
State and federal laws form the basis of special education eligibility. Yet, care must be taken to follow protocol unexpectedly and help schools stay in full compliance at all times.
Parents have the right to know about the process and be informed of the type of services available for the student in question – from testing to identification methods and beyond.
Together special education can make a major difference in one's life should they qualify– if this is something you or someone you know is considering, it's essential to know exactly how state and federal law works regarding eligibility.
Related Posts