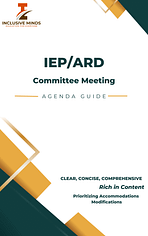 Are you looking to streamline your ARD/IEP committee meetings? We've got you covered. Our comprehensive Admission, Review, and Dismissal/Individualized Education Program (ARD/IEP) Committee Meeting Agenda Guide will empower your team with the structure and guidelines needed to conduct productive and efficient meetings.
Here's why our ARD/IEP Committee Meeting Agenda Guide is the ultimate tool you've been waiting for.
It Is Free
This comes in a word document. Cost nothing and editable.
Clear, Concise, and Comprehensive
With our guide, no detail is left unaddressed. From introductions to deliberations, we've meticulously covered all the topics your ARD/IEP committee needs to discuss. The guide is organized into distinct sections, making it easy to follow and ensuring nothing is missed.
Rich in Content
Our guide is enriched with valuable content to assist your committee in developing an effective IEP. You'll find a detailed process for evaluating eligibility, determining disability conditions, and developing measurable goals. The guide even goes a step further to cover the specifics like language needs, assistive technology devices and services, post-secondary interests and goals, and much more.
Prioritizing Accommodations and Modifications
Understanding that each child has unique educational needs, our guide emphasizes designing suitable accommodations and/or modifications. With this in mind, your committee will be well-prepared to develop post-secondary goals, determine needed behavioral supports, and establish instructional services to best suit each child's needs.
Least Restrictive Environment (LRE) at the Forefront
The guide advocates for serving the child in the least restrictive environment (LRE), ensuring they have ample opportunities to interact with non-disabled peers as appropriate.
Maintaining Clear Communication
We believe transparency is key. Hence, the guide encourages the use of deliberations pages to record notes summarizing the issues discussed during the ARD/IEP meeting. Whether it's requests for services, proposals, or refusals, everything is noted to maintain clarity and uphold the child's best interest.
Legal Compliance
Our guide is designed to help you remain compliant with the Individuals with Disabilities Education Improvement Act (IDEIA). It provides guidance for addressing special factors like the need for Braille instruction, communication needs, and assistive technology, among others.
Consensus Building
Consensus is vital for any committee decision. The guide promotes consensus building among committee members, thereby fostering a collaborative environment that ensures the child's needs are met most effectively.
In conclusion, our ARD/IEP Committee Meeting Agenda Guide is a critical tool that can significantly improve the quality of your ARD/IEP meetings. Not only does it cover all aspects of the process, but it also emphasizes a collaborative, comprehensive, and child-centered approach to special education planning.
Make the right choice today, and let our guide lead your team to productive, well-structured, and efficient ARD/IEP meetings. Get your copy now!
Related Posts